Reviews
Açıklama:
Matilda
Matilda," İngiliz yazar Roald Dahl'ın aynı adlı çocuk kitabından uyarlanmış olan ve 1996 yılında sinemaya uyarlanmış bir filmidir. Film, Matilda Wormwood adlı bir küçük kızın hikayesini anlatır. Matilda oldukça zeki ve kitapları seven bir çocuktur, ancak ailesi onun yeteneklerini görmezden gelir ve ona kötü davranır.
Matilda'nın hayatı, korkunç ve ihmal eden ebeveynleri Harry ve Zinnia Wormwood ile başlar. Matilda, bu zorlu aile ortamına rağmen okuma ve öğrenme konularındaki tutkusunu sürdürür. Bir gün, Matilda, okulun müdürü olan Bayan Trunchbull tarafından yönetilen Crunchem Hall İlkokulu'na kaydolur. Ancak bu okul da Matilda için pek de iyi bir yer değildir, çünkü Bayan Trunchbull, öğrencilere zorla ve haksız davranır.
Matilda, güçlerini keşfeder ve telekinezi yeteneği geliştirir. Bu yetenekleri kullanarak kendisini ve arkadaşlarını kötü öğretmenlerden ve ailesinin kötülüklerinden korumaya başlar. Aynı zamanda Matilda, okulda yeni öğretmen olan Bayan Honey ile yakın bir dostluk kurar. Bayan Honey, Matilda'ya sıcak bir aile ortamı sunar.
Film, Matilda'nın ailesi, okuldaki maceraları ve telekinezi yetenekleriyle nasıl başa çıktığını anlatan bir hikaye olarak ilerler. Matilda'nın güçlü karakteri ve zekası, onu hayatındaki zorluklarla başa çıkmaya teşvik eder.
"Matilda," çocuklara ve yetişkinlere hitap eden bir film olup, Roald Dahl'ın eserinin büyüleyici ve eğlenceli bir uyarlamasıdır. Film, aile, arkadaşlık ve iyilik temasını işlerken, Matilda'nın özgünlüğünü ve kararlılığını vurgular.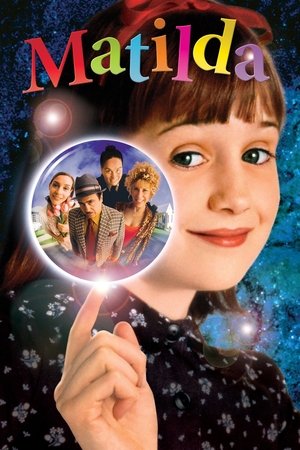 Matilda
An extraordinarily intelligent young girl from a cruel and uncaring family discovers she possesses telekinetic powers and is sent off to a school headed by a tyrannical principal.

Mara Wilson

Danny DeVito
Rhea Perlman
Embeth Davidtz
Pam Ferris
Paul Reubens

Tracey Walter
Jean Speegle Howard

Brian Levinson
Sara Magdalin
R.D. Robb
Fred Parnes
Kiami Davael
Jacqueline Steiger
Kira Spencer Hesser
Christopher Shepard Hughes

Christel Khalil
Amanda Fein

Donna Spangler
Marianne Curan
Sabrina Bryan

Trevor Coppola

Simon Jones

Jon Lovitz

Danny DeVito

Danny DeVito
Deep Roy
Roald Dahl

Stefan Czapsky
David Newman
Lynzee Klingman

Michael Shamberg

Stacey Sher

R. A. Rondell
Jeffrey J. Dashnaw

Bill Brzeski
Gary Archer
Eddie Hice

Ve Neill

Ve Neill

Laura Dash
François Duhamel

Cara Giallanza

Dana Dru Evenson
Kent W. Luttrell
Taglar