Reviews
Açıklama:
İyilik ve Kötülük Okulu
Okula  giden çocuklar, masal kahramanı olmak için eğitilir. Okulda bazıları prens ya da prenses olurken bazıları da cadı ya da büyücülerin olduğu kötü tarafa yönelir. Yakın arkadaş olan Sophie ve Agatha da gitmeyi çok istedikleri okula kabul edilir. Sophie kesinlikle prenses olmak istemektedir ancak Agatha karanlık tarafa daha çok ilgi duyar. Yolları ayrılan Agatha ve Sophie'nin bu süreçte arkadaşlıkları büyük bir teste tabi tutulur.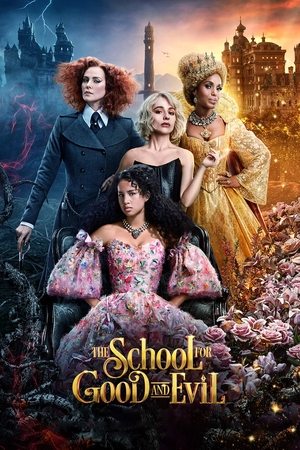 The School for Good and Evil
Best friends Sophie and Agatha navigate an enchanted school for young heroes and villains — and find themselves on opposing sides of the battle between good and evil.
Sofia Wylie
Sophia Anne Caruso

Kerry Washington

Charlize Theron
Laurence Fishburne

Michelle Yeoh

Jamie Flatters

Kit Young
Peter Serafinowicz

Cate Blanchett
Patti LuPone

Rob Delaney

Rachel Bloom

Earl Cave

Mark Heap

Freya Parks
Kaitlyn Akinpelumi
Briony Scarlett
Joelle

Ali Khan

Stephanie Siadatan

Adam Ray

Olivia Booth-Ford

Emma Lau
Chinenye Ezeudu

Harvey Scrimshaw
Misha Butler
John MacDonald

Ben Aycrigg
Rosie Graham
John Schwartzman

Theodore Shapiro

David Magee
Joe Roth
Melissa R. Stubbs
Melissa R. Stubbs
Melissa R. Stubbs
Paul Feig
Paul Feig
Paul Feig

Patricia Riggen

Laura Solon
Taglar